Free, Insured Shipping on Orders $100 +
Authorised Australian Dealers
Lifetime Technical Support
Fast, Free & Insured Delivery*
Australian Stock & Warranty
Expert Advice & Support
THE GROUNDBREAKING
ZOOM H6
It will change the way you think about recording forever.
Zoom have been building innovative products for the past thirty years - but with the revolutionary H6 six-track recorder, the bar is raised further still.
Four interchangeable input capsules – X/Y, MS, Shotgun, and Dual XLR/TRS Combo – make the H6 the ultimate chameleon of the audio world, and its advanced preamps make it the best-sounding one too.
Whatever your application – live recording, professional film/video work, live broadcast or electronic news gathering – the Zoom H6 can handle it with ease.
The most versatile portable recorder ever.
THE INS AND OUTS
Making connections
More of what you need
Inputs
The H6 offers four main inputs (1-4), plus two additional inputs (L, R) that are derived from whichever capsule (X/Y, MS, Shotgun, or Dual XLR/TRS Combo) is plugged into the unit. The supplied XYH-6 X/Y capsule also provides a secondary input for connecting an external mic- or line-level signal via a stereo ⅛" Mic/Line In mini phone jack. When a connection is made to that jack, signal from the X/Y microphones is muted.
All four main H6 inputs (inputs 1-4) are combo connectors that can accept either XLR or ¼" balanced or unbalanced phone cables.
They can handle both mic- and line-level signals, which means that you can connect either external microphones or line-level devices like mixers, portable music players, electronic keyboards, or electric guitars or basses with active electronics (passive electric guitars or basses can also be connected with the use of a mixer or effects device). Internal switching contacts automatically detect the circuit of choice.

Each of the six inputs (that is, 1-4 as well L, R) have a dedicated gain control knob as well as a -20dB pad, allowing you to prevent distortion even when high-level signals are introduced. In fact, with the use of the Pad switch, the H6 can input a signal 30dB louder and 14dB softer than any other Handy Recorder model.
In addition, all capsules utilise higher voltage preamps (5 volts instead of the more commonly used 3 volts) for distortion free recording, even at high volumes. A built-in instrumentation amp allows signals to be transmitted with minimal noise even when long cables are used.
If you're using high-quality condenser (powered) microphones with the H6, no problem—a simple menu option allows the unit to provide Phantom Power (either +12, +24, or +48 volts) to any or all of the main inputs (inputs 1-4). Inexpensive condenser microphones requiring Plug-In Power (2.5 volts) can be connected to the X/Y capsule's stereo 1/8" Line In jack.
Outputs
The H6 Line Out is an unbalanced stereo 1/8" phone jack, located on the bottom of the H6, beneath the LCD display. It carries the analog stereo output signal, as determined by the H6's internal mixer.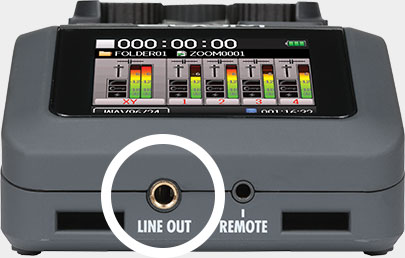 The H6 USB port, located on the side panel to the right of the LCD display, provides a digital output of either a stereo mix or the six individual input signals, depending upon the setting of the "Audio Interface" function in the USB menu.


In addition, the H6 provides a headphone output with a dedicated volume control, located on the side panel to the left of the LCD display. Connect your headphones to its stereo 1/8" mini phone jack for private monitoring of the stereo output signal.

The H6 even has a built-in speaker, located on the underside of the unit, for fast monophonic monitoring of the recorded signal without the need to make any connections whatsoever. This speaker is automatically disconnected when connection is made to either the Line Out or Headphone output.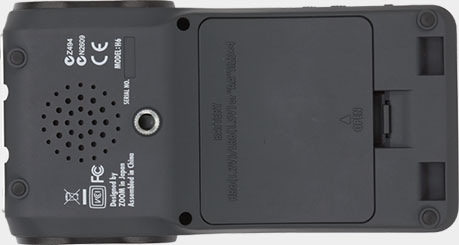 RECORDING FEATURES
Never miss a take
Pre-Record, Backup-Record, and Auto-Record
Pre-Record
The interview started a split-second before you were ready. The conductor lifted his baton just as you were checking a cable. The talent went back on-air a moment too soon.
No problem… as long as you're using the Zoom H6. Its Pre-Record function automatically keeps the H6 silently but continuously recording in the background, all the time. Then, when you hit the RECORD button, it keeps the previous two seconds and appends it to the beginning of the file. It's as if the H6 had started recording two seconds before you actually got to hit the button.
Backup-Record
Backup-Record—the ultimate safety net. When turned on during the recording of WAV files, the H6 automatically records a duplicate set of L/R tracks, but with 12dB less input gain. Even if the original L/R track is distorted, chances are the Backup version is fine.
You can listen to either set of tracks simply by going to the Backup File option in the PROJECT menu. When turned OFF, you'll hear the original L/R tracks; when turned ON, you'll hear the lower-level Backup tracks instead. Pick the one you prefer and use it as your L/R master. Bacon saved.
Auto-Record
The Auto-Record function allows the H6 to automatically start recording when a certain level of sound is detected. When turned ON and the RECORD button is pressed, the H6 doesn't immediately start recording; instead, it goes into a standby mode; as soon as an incoming signal exceeds the Start Level you've set, recording begins.
There's an equivalent Auto-Record Stop function, too. When turned ON, as soon as incoming signal drops below the Stop Level you've set, recording ends.
ONBOARD EFFECTS
It's all about control.
The H6 provides an arsenal of effects that allows you to add polish to your recordings and compensate for any problems or limitations in the acoustics of the recording environment.
The H6 allows you to choose from three compressor settings and three limiter settings. The two "General" settings (Comp1 and Limiter1) are all-purpose settings that will work well on most kinds of program material. The Comp2 and Comp3 presets are optimised for use with vocals and drums, respectively, while the Limiter2 and Limiter3 presets are optimised for use in live concert recording and small room "studio" recording, respectively.
Compression and limiting compensate for fluctuations in level; in essence, they act like an automatic volume control, reducing the level of louder sounds (that is, the sounds above a threshold point). The main difference between the two is that a limiter reduces louder sounds more severely.
A low-cut filter allows you to remove signal below a certain user-designated frequency (called a cutoff frequency). This is useful for eliminating pops, wind noise, blowing, transmitted resonance from an onstage mic stand and other kinds of low frequency rumble.
In addition, there's an onboard metronome and chromatic / guitar / bass tuner—both handy tools when recording musical content.
BATTERY LIFE AND RECORDING TIMES
Time is on your side.
The Zoom H6 requires just 4 AA batteries—either alkaline or rechargeable NiMH—for power. Battery life (when using alkaline batteries) is more than 20 hours, even during continuous recording. An optional AD-17 AC adaptor (included in the APH-6 Accessory Pack) allows you to power the H6 from any standard wall socket.
The H6 records directly to SD cards. It supports standard SD cards as well as the newer SDHC and SDXC cards, up to 128 gigabytes, making it capable of accessing massive data storage. A handy "SD Card Remain" function allows you to see at a glance how much space remains on the currently inserted card, both in gigabytes and percentage.
SUPPORTED FILE TYPES
To compress or not to compress.

The Zoom H6 can record audio in two different basic file types: WAV and MP3. The main difference between the two is that WAV files are uncompressed; that is, they contain all the recorded data without any "bits" (digital words) being removed. Thus, they provide full fidelity without compromise.
The H6 can record up to six monophonic WAV files (or up to three stereo files) in any of the following formats:
44.1kHz / 16-bit

44.1kHz / 24-bit

48kHz / 16-bit

48kHz / 24-bit

96kHz / 16-bit

96kHz / 24-bit
All WAV files recorded by the H6 are automatically time-stamped, making them fully compatible with the Broadcast Wave Format (BWF); in other words, they are "BWF-compliant." This is especially important when recording audio for video, because it allows the audio to be precisely synchronised with the onscreen action in post-production.
MP3 recordings are compressed, which means that some unnecessary data is removed prior to storage, making them much smaller than WAV files, and thus much easier to upload and download. Some MP3 files exhibit a slight loss of audio fidelity as compared with the original signal; however, this is not noticeable in all circumstances.
Note that when the MP3 file type is selected, the H6 only records in stereo; if you want to record in multitrack, you must select a WAV file type. The H6's internal mixdown function allows multitrack WAV projects to be easily reduced down to stereo MP3 (or WAV), with independent control over each track's level, panning and pitch.
THE H6 AS AN AUDIO INTERFACE
Do it yourself never sounded so good
The Zoom H6's USB port allows it to send and receive digital data. Connect the H6 to your laptop or desktop computer via USB, launch your favourite DAW, or use the included Cubase LE software, and start laying down your tracks. You can even connect the H6 to an iPad (camera connection kit required).
When the H6 is set to "Stereo Mix" in the USB menu, it acts as a 2-input / 2-output interface; when set to "Multi Track," it acts as a 6-input / 2-output interface.
The H6's onboard INPUT&OUTPUT mixer allows you to create a custom stereo or six-track mix for output via USB, with independent control over the level and panning of each track, as well as access to effects like low-cut filtering, compression and limiting.
In addition, signal that is input to the H6 can be monitored directly before it passes through the connected computer or iPad for zero latency (that is, without any delay). There's also a handy Loop Back mode that allows you to blend stereo signal coming from the computer or iPad with signal coming into the H6 inputs, useful for live streaming via the Internet or for adding narration to a musical backing track.
USAGE EXAMPLES:
LIVE CONCERT RECORDING
Capture the performance on a whole new level.
Do more than just record the show: Document the experience. Use the X/Y capsule to capture the overall sound in stereo, then use the other four inputs for a direct feed from the mixing board, or for external spot mics to pick up specific instruments and the room sound. With the Zoom H6, you can relive that great performance night after night.
CLICK HERE LEARN MORE ABOUT LIVE CONCERT RECORDING WITH THE ZOOM H6
LOCATION VIDEOGRAPHY
Get the sound that completes the scene.
Whether you slide it onto your camera strap or attach it directly to your DSLR with our Hot Shoe mount, the H6 is the essential audio recorder for location videography. It's supplied MSH-6 mic capsule and onboard MS decoding, plus the ability to record up to 6 tracks simultaneously, gives you plenty of options in post-production.
CLICK HERE TO LEARN MORE ABOUT LOCATION VIDEOGRAPHY WITH THE ZOOM H6
ELECTRONIC
NEWS GATHERING
Deliver the full story, down to the last detail.
Extend your range with the optional Zoom SGH-6 Shotgun mic. Get every word of that headline-making interview. Capture breaking news with maximum impact, then mix and prepare the audio for broadcast while still in the field. With the Zoom H6, you can do onsite reporting that really resonates.
CLICK HERE TO LEARN MORE ABOUT ELECTRONIC NEWS GATHERING WITH THE ZOOM H6
MAKING MUSIC
Make every chord, every note, every riff really sing.
Plug in the optional EXH-6 Dual XLR/TRS capsule and your H6 becomes a personal 6-track studio with six discrete line- or mic-level inputs, each with its own volume control and pad. Record and overdub up to 99 takes in high-resolution audio, then mix down to a stereo MP3 for posting to your favorite website. With the H6, the road from great idea to perfect track just got a lot shorter.
CLICK HERE TO LEARN MORE ABOUT MAKING MUSIC WITH THE ZOOM H6
Features:
Main Features

Interchangeable input capsules that can be swapped out as easily as the lens of a camera

Six-track simultaneous recording

Four mic/line inputs with XLR/TRS combo connectors

Gain controls (real knobs!) and -20dB pads for each input

Phantom power for all main inputs: +12/+24/+48V

Large full-color LCD display, angled so it's easy to read in all environments

Records directly to SD, SDHC and SDXC cards up to 128GB

Up to 24-bit /96kHz audio in BWF-compliant WAV or a variety of MP3 formats

Auto-record, Pre-record and Backup-record functions mean that you'll never miss that perfect take

Multitrack to stereo internal mixdown

Independent monitor and playback mixes

Virtual VU meters

Voice memo and up to 99 marks per recording

Overdubbing, up to 99 takes

Built-in effects, including low-cut filtering, compression and limiting

Onboard MS decoding

Normalize, Divide and Trim editing

Chromatic tuner and metronome

A/B loop playback

Variable playback speed, from 50% to 150%

Variable pitch per track without affecting playback speed

USB port for data exchange to and from computer

Multichannel and stereo USB audio interface for PC/Mac/iPad

Camera strap mounts

Mountable directly to DSLR or camcorder with optional HS-01 Hot Shoe Mount

adaptor

Accepts standard AA alkaline or NiMH rechargeable batteries

Over 20 hours of operation with 4 AA alkaline batteries
For more information, Click Here to visit the Manufacturer's Website
(FXROO6BK)
| | |
| --- | --- |
| SKU | FXROO6BK |
| Barcode # | 4515260012183 |
| Brand | Zoom |
| Shipping Weight | 0.5000kg |
| Shipping Width | 0.210m |
| Shipping Height | 0.060m |
| Shipping Length | 0.160m |
| Shipping Cubic | 0.002016000m3 |
| Unit Of Measure | ea |
Standard Shipping - FREE
This is our standard shipping, and it's completely FREE if your order totals $100 or more!
Priority Shipping via Courier - $12.50
This option ensures your order is prioritised and sent using one of our courier partners.
Express Shipping - $25.00
For when you need it FAST! If you choose this method, your order will be bumped to the top of the cue and dispatched ASAP via Auspost Express or an Express Courier Service.
Pick up in Store - FREE
To avoid disappointment, please wait for confirmation your order is ready to be picked up before you visit.
Be The First To Review This Product!
Help other QLD Sound and Lighting users shop smarter by writing reviews for products you have purchased.
---
Others Also Bought
---
More From This Category